Kamakura - the nearest ancient city from Tokyo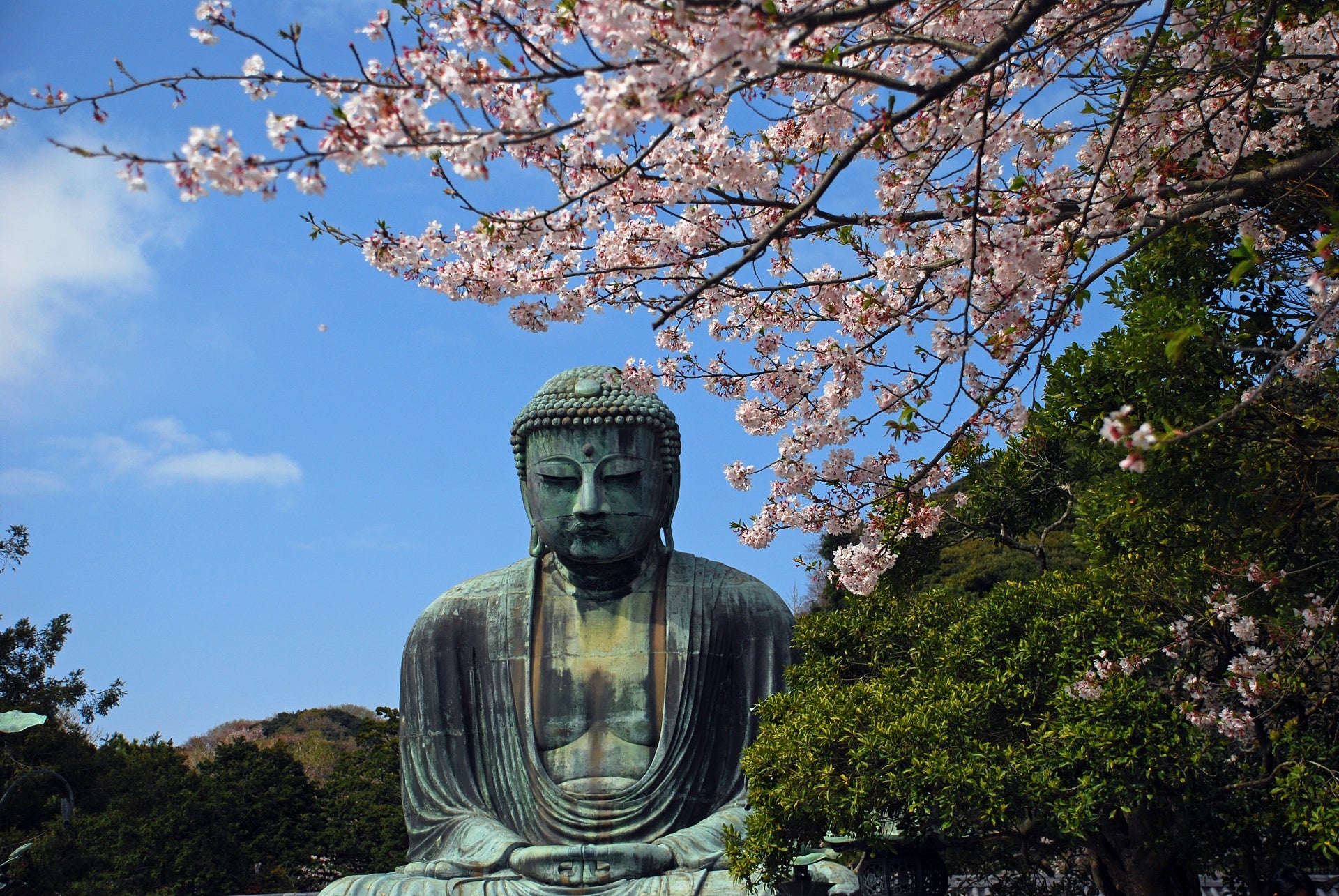 Kamakura is an ancient city that can be reached within one hour by a local line from Tokyo.
You can go around in one day at significant spots such as Tsuruoka Hachimangu Shrine in the center of Kamakura, Great Buddha, the symbol of Kamakura, and Hase-Dera Temple, famous for its hydrangea.
If you want to enjoy a border range of things from Kita Kamakura, rich in nature, to Kanazawa Highway, famous for its bamboo forest, I recommend a two-day trip.
Kamakura is always great, but the hydrangea June and autumn leave season are especially popular.
Recommended spots
Around Kamakura Station

Tsurugaoka Hachimangu shrine is in the center of Kamakura.
According to an old legend, a samurai worrier, Yoriyoshi Minamoto prayed for the victory of the battle in Iwashimizu Hachimangu in Kyoto when he set out. After winning the war and coming back to Kamakura, he worshipped the shrine on his local Yuigahama Beach in 1063.

The shrine moved to its current location when Yoritomo Minamoto opened the Kamakura Shogunate in 1192. The town of Kamakura has developed around Tsuruoka Hachimangu Shrine.

One of the highlights is that the kanji character of "Hachi", which means number 8, on the forehead of "Hachi-mangu" displayed at the main gate represents a pair of pigeons. A pigeon is a symbol as the god's messenger here, and the shrine is sometimes called "Hato-miya", meaning pigeon shrine. A charm with a dove motif is a popular souvenir.


Access: About a 10-minute walk from the east exit of JR Kamakura Station / Kamakura Station of Enoshima Electric Railway (aka ENODEN)
Komachi-Dori, just off the east exit of Kamakura Station, is a shopping street on the west side of the approach to the Tsuruoka Hachimangu Shrine (Wakamiya Oji).
There are many well-established Japanese confectioneries, fashionable cafes, general stores, and attractive gourmets that are full of visitors. It is an excellent spot for souvenir hunting, lunch, and a little sweets break.
I recommend that you visit with plenty of time, as many people are strolling.
Hase & Yuigahama area

The symbol of Kamakura sightseeing is the Great Buddha of Kotoku-in, the Jodo sect.
It has been in Kamakura for more than 750 years. It has a significant value in the history of Buddhism art and is the only national treasure among Kamakura statues.

With a height of about 11.3m and a weight of approximately 121t, each part has a distinctive Buddha's physical characteristics with a profound meaning. Knowing the meaning in advance may deepen your understanding. There is also an entrance to the inside of the Buddha. It is a valuable experience!

Access: About 7 minutes on foot from Hase Station by Enoshima Electric Railway (ENODEN)
Hase-Dera is a flower temple where you can enjoy seasonal plants. Known as one of the most famous hydrangea spots in Kamakura, it is also a renowned spot for autumn leaves. You can enjoy the fantastic autumn leaves light up at night visits in late November. Also, you can enjoy various flowers such as wisteria, peony flowers and azaleas throughout the year.
This temple is one of the oldest temples, founded in 736. The eleven-faced Kannon is 9.18m tall and is the largest wooden Kannon in Japan.
In the precincts, there are Ryoen-Jizos. Jizo Statue is known as the guardian deity of children in the Japanese culture. You can see statues in a lot of places around Japan. Ryoen-Jizos are popular as it is said that people will be blessed with good fate if they find all the three Ryoen-Jizos in different areas.
The restaurant "Kai Koan" is popular with a great overlook of Sagami Bay.

You can experience "Shakyo", hand-copying of a sutra and Shabutsu, tracing a figure of Buddha, every day. (Please contact Here in advance for a group reservation. )


Lucky Ryoen-Jizo
Access:
1) About 5 minutes on foot from Hase Station by Enoshima Electric Railway (ENODEN)
2) Hase Kannon bus stop, 20 minutes by bus from Kamakura Station

Yuigahama (Yuigahama Beach)
Yuigahama Beach is within walking distance of Kamakura Station and a few minutes walk from Enoden's Yuigahama Station. It has been a famous beach since the Meiji era with stylishly designed sea houses.
In the Kamakura area, there are plenty of rental bicycles. So how about cycling in the sea breeze!

Access:
1) About 20 minutes on foot from JR Kamakura Station
2) About 5 minutes on foot from Yuigahama Station of ENODEN



Enoshima Electric Railway Kamakura High School-mae Station

From Kamakura, take ENODEN to the seventh station, Kamakura High School.
Since the distance from the platform to the sea is short, the spectacle from the bench on the station, makes you want to look at the sea forever.
Right next to the station, there is a famous railroad crossing that appears at the opening of the blockbuster manga "Slam Dunk". It became a popular photography spot and has attracted many anime fans from not only Japan but also overseas.
If you get on and off at Enoden stations, you can purchase a one-day ticket "Noriori-Kun" (650 yen for adults, 330 yen for children).
Not only you can ride on Enoden all day, but you can also use it at restaurants and other facilities such as the Enoshima Aquarium and Hase-Dera.



Kita-Kamakura Area

Enkakuji, Zen temple was built in 1281 by Tokimune Hojo. 
Hong Bell (Belfry) with a height of 2.6m in the precincts is designated as a national treasure and is the largest in Kamakura area. A zazen party helds on the weekend.


Access: 2 minutes on foot from Kita Kamakura Station

Kenchoji Temple



"Kencho-ji" is the head temple of the Rinzai Sect, Kenzai Temple, which ranks first in Kamakura Gozan.
Founded in 1253 by Tokiyori Hojo, it is the first full-scale Zen temple in Japan. It is also famous as a famous cherry blossom spot. So we recommend visiting in the spring.
Access:
1) 20 minutes on foot from Kita Kamakura Station
2) Take a bus from Kamakura Station and get off at Kencho-ji Temple

Kanazawa Highway area

Hokokuji Temple is also famous as a Michelin three-star Zen temple and is renowned for its bamboo forest and Karesansui garden.
Behind the main hall, fantastic bamboo grove spreads and delights the eyes, especially after the rain. If you buy a matcha tea ticket at the entrance, you can enjoy matcha while watching the bamboo forest in the tea ceremony. Next to the bamboo grove, there is also a beautiful Karesansui garden.

Zen meditation sessions hold on every Sunday morning. Try to correct your posture, breathe, and spend some quiet time.

Access: 7 minutes by bus from Kamakura Station and get off at Jomyoji Temple




Seaside Area
Shichirigahama & Inamuragasaki

If you want to visit at the end of your trip, take a stroll along the coast while watching the beautiful sunset. From the coastline from Shichirigahama to Inamuragasaki, it is a great location to overlook Enoshima in the foreground and Mount Fuji, Izu Oshima, and Miura Peninsula in the back when the weather is beautiful. There are many fashionable restaurants and cafes along the coast along the national highway where you can dine while watching the sea. 

Access: 5 minutes on foot from Inamuragasaki Station, Enoshima Railway (ENODEN)

Mt. Fuji view on Inamuragasaki
Access to Kamakura
From Tokyo 

From Tokyo, you can access Kamakura in about an hour using the JR Yokosuka Line or JR Shonan Shinjuku Line.
If you want to enjoy local train traveling, you can take the Odakyu Line from Shinjuku to Fujisawa Station, change to ENODEN and head to Kamakura.

Getting To Kamakura From Tokyo and Shinagawa station

You can head directly to Kamakura Station from Tokyo Station, Ueno Station or Shinagawa Station via the Yokosuka Line. It takes about 1 hour from Tokyo Station and takes around 50 minutes from Shinagawa Station.


Getting to Kamakura from Ikebukuro, Shinjuku, or Shibuya station

To get to Kamakura from Ikebukuro, Shinjuku or Shibuya Station, your most convenient route is via Shonan Shinjuku Line on a train bound for Zushi.
The journey is about 1 hour from Ikebukuro and Shinjuku and takes 50 minutes from Shibuya.

Please note that the Shonan Shinjuku Line has different destinations. If you get on a train bound for Kozu or Odawara, you'll need to transit at Ofuna Station and transfer to the JR Yokosuka Line.

Getting to Kamakura from Kansai Area

For those coming from the Kansai area, it is convenient to transfer to the Tokaido Line at Odawara Station (Shinkansen Station) and transfer to the Yokosuka Line.





Beautiful window view in Meigetsuin in Kitakamakura

Please note that the closing time of shrines and temples is early. They often close between 16:00 and 17:00. The shops near the shrines and shrines are as well. So, we recommend to get up early and start the action in the morning.
It is a good idea to arrive early in Kamakura and start with a luxurious breakfast!
About Us: Shinkansen Ticket Online Booking
You can book Shinkansen/Bullet train tickets online here. We purchase tickets for you and deliver to your hotel. Reserve your tickets/seats without the hassle.