Hokuriku – Beautiful Northern Country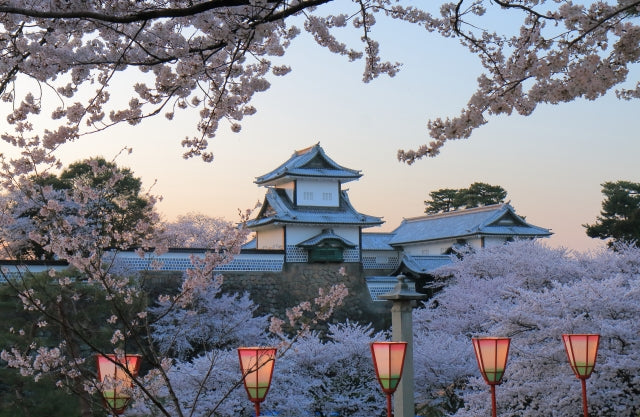 Why do you come to Japan?
The number of foreign tourists to Japan is increasing year by year. They have various purposes.
The popular plans;
- to visit shrines and temples in Kyoto
- to climb Mt. Fuji
- to shop fancy things in Shibuya and Harajuku
- to enjoy Tokyo Disneyland with your family
- to visit a world heritage site, Hiroshima Peace Memorial
- to eat local crabs while skiing in Hokkaido etc.
In addition to these famous sightseeing spots, there are places not much known yet, but you can enjoy oriental Japan and beautiful scenery.
That is Hokuriku, an area facing the Japan Sea in the central region located on the main island.
Since Hokuriku Shinkansen was extended to Kanazawa from Nagano in 2015, now it is very accessible from Tokyo. I introduce some recommended places in Hokuriku.
KANAZAWA in Ishikawa Prefecture
Kanazawa is the current end station of the Hokuriku Shinkansen and the biggest city in Hokuriku. While it is fashionable and urban, it is a beautiful city that retains old houses and streets full of the atmosphere of an ancient city. Also, don't forget to eat Sushi and fresh seafood caught in the Japan Sea!
There are many must-go places in Kanazawa
A strolling-style landscape garden counted as one of the three noted gardens in Japan.
Load Maeda Toshiie moved to Kanazawa Castle in 1583 and governed the Kaga Clan (the present Ishikawa and Toyama areas) for more than 280 years.
21st Century Museum of Contemporary Art 
A circular and glass art museum located near Kenrokuen, with many artworks after 1980, including Yayoi Kusama, Tadanori Yokoo, and Andy Warhol.
This area is a traditional building preservation district. Chaya means tea houses where geisha perform. 
From Tokyo to Kanazawa
Take Hokuriku Shinkansen. Hokuriku Shinkansen has some vehicles including Kagayaki, Hakutaka, Tsurugi, etc., but Kagayaki is the fastest to reach Kanazawa. It takes around 2 hours and 30 minutes.
Please check here for booking Hokuriku Shinkansen from Tokyo to Kanazawa
Tateyama Kurobe Alpine Route in Toyama Prefecture
The Tateyama Kurobe Alpine Route is one of the most famous mountain sightseeing routes in the world, penetrating through the Northern Alps where mountains with an altitude of 3,000 m are connected.
A total length is 37.2 km from Ogizawa Station in Nagano Prefecture to Tateyama Station in Toyama Prefecture, with a maximum point of 2,450 m,
Visitors can enjoy the magnificent nature and superb view as they travel with various local vehicles. For accessing from Tokyo, you go to Toyama, Nagano or Matsumoto station by Shinkansen or express train at first and transit to local trains or buses.
From Tokyo to Tateyama Kurobe Alpine Route
Please check here for booking Hokuriku Shinkansen from Tokyo to Toyama
Please check here for booking Limited Express train, Azusa from Shinjuku to Matsumoto
Hida-Takayama & Shirakawago in Gifu prefecture
Hida-Takayama is a favorite travel destination for some travelers.
Takayama is a city in the northern part of Gifu Prefecture, and because it is in the center of the Hida region, it is generally called "Hida Takayama".  
Strictly speaking, Hida-Takayama may not belong to the Hokuriku area, but these mountains are over Toyama and Gifu prefecture.
In the center of the old Takayama city, the appearance of the castle town and merchant town since the Edo period remains.  It earned 3 stars as a must-see tourist destination in Michelin, France's practical travel guide.
Especially Shirakawago is popular. This historic village is one of the World Heritage Sites. You'll feel like you're in an old Japanese folklore tales.
Please check here for booking train from Tokyo to Takayama
Please check here for booking train from Kanazwa to Takayama
Hot springs, Cliffs, Dinos, Beaches and more!
Please check! There are more exciting places.
Kaga Onsen in Ishikawa Prefecture
Tojinbo ( famous cliff as a natural monument) and Awara Onsen in Fukui Prefecture 
Suisho-Hama (Crystal Beach) in Fukui Prefecture
Shiroyone Senmaida in Ishikawa Prefecture
Fukui Prefectural Dinosaur Museum (FPDM) in Fukui Prefecture
One of the world's three largest dinosaur museums!
For KYOTO, OSAKA, and NAGOYA
After enjoying Hokuriku, you can move to the west part of Japan by express train.
Check here for booking train from Kanazawa to Shin-Osaka by Thunderbird 
Check here for booking train from Kanazawa to Nagoya by Shirasagi
We have many more ticket collections!
About Us: Shinkansen Ticket Online Booking
You can book Shinkansen/Bullet train tickets online here. We purchase tickets for you and deliver them to your hotel. Reserve your tickets/seats without the hassle.