Gran class - a luxurious Shinkansen trip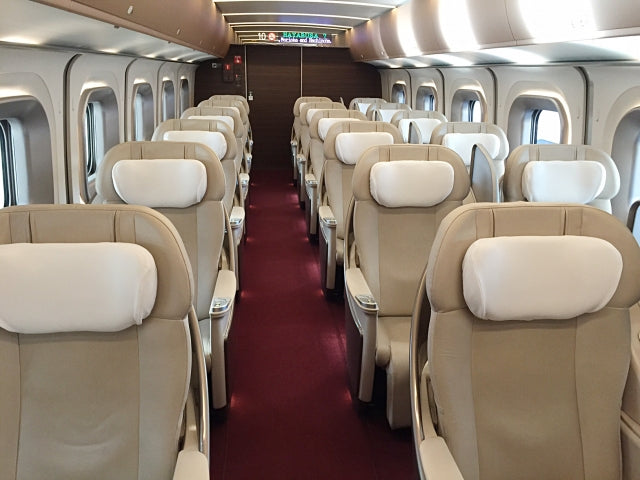 What is Gran Class?
The Grand Class is a special vehicle provided by Shinkansen and it is equivalent to a first class of aircraft.
The Grand Class service is offered on Tohoku and Hokkaido Shinkansen (E5 series and H5 series), Hokuriku Shinkansen (E7 series and W7 series) and Joetsu Shinkansen (E7 series) only.
Interior
There are six rows of three seats with a capacity of only 18 people and the occupied area per passenger is larger than that of green seats.
Based on ergonomics, the genuine leather outer sheet was adopted.
The seat pitch is 1300 mm (green car: 1160 mm), and the seat width is 520 mm (green car: 475 mm). Both are the largest dimensions for general passenger seats in Japan, and have specifications almost equivalent to Japanese domestic first-class aircraft seats.
In addition to LED-type reading lights, it has an electric reclining mechanism and an electric leg rest that can be flipped up to 45 degrees, movable pillows, and outlets for mobile devices.
A semi-transparent small visor is installed in the two-seat seat to divide it from the next seat.
The luggage rack is a hat-track type with a lid, and the floor covering is a wool carpet.
The direction of the seat cannot be changed by the passenger.
Facilities in the car are provided with amenities such as blankets, slippers, eye masks, newspapers and magazines.
Since the Grand Class is located at the top of the vehicle, there is no noise from the passengers moving between the vehicles.
Two types of Gran Class
There are two types of Gran Class.
Gran-class(A): Attendant service with snacks and beverages (soft drinks and alcohol) provided free of charge using special food along the Tohoku, Hokkaido and Hokuriku Shinkansen lines. You can see beautiful bento boxes in the site below. 
Gran-class(B): No attendant service. No Beverage and Snack service. Gran class B offer seating only in order to make the calm and refined premium cabin space.
Since both in Gran-class (A) and Gran-class (B), in-vehicle sales by wagon service are not performed, when you wish to purchase souvenirs and in-vehicle limited products, you can order them via an attendant.
Fares
In addition to fares and limited express fares, a special fare called "grand class fare" is required for use.
Lounge
There is a lounge exclusive for Grand Class customers called the "View Gold Lounge" which is located opposite the ticket gate at the Tokyo Station Yaesu Central Exit. You can use it from 90 minutes before the scheduled departure time of the train by presenting the Grand Class ticket that you will board on the day at the reception. It is open all year round, with 8 to 18 o'clock hours with 34 seats.
Please note that the lounge is located outside the ticket gate.
Since Tokyo station is huge, please check the Tokyo station map in advance and enter the ticket gate with enough time to find your Shinkansen platform.
Tokyo Station Map. You can find View Gold Lounge upper side of page 1.
 Reservation
If you would like to experience a luxurious trip of Gran class, please visit our site. Since there are only 18 seats in the Grand Class,  we can help you to make an early reservation.