Traveling with Oversized Baggage on the Shinkansen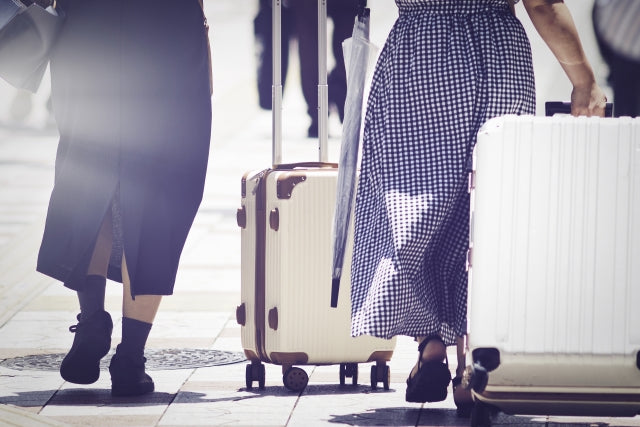 When traveling on the Shinkansen with bulky luggage, we kindly ask you to consider the comfort of your journey and the convenience of fellow passengers. To facilitate this, we recommend opting for seats in the rearmost row of each train car.
On the Tokaido Shinkansen (stations: Tokyo, Shinagawa, Shin-Yokohama, Nagoya, Kyoto, Shin-Osaka) as well as the Shinkansen connecting Osaka and Kyushu, passengers carrying items with total dimensions exceeding 160cm and up to 250cm must reserve seats in the "Seats with Oversized Baggage Space" category.
This policy is similar to the size regulations for international cargo hold luggage (exact dimensions may vary by airline).
Shinkansen and limited express trains other than those listed above have luggage storage areas in the cars, so no special reservations are required.
Should you wish to reserve seats with oversized baggage space through our service, kindly indicate your request in the comments section during the order process at our website. Alternatively, you can inform us via a separate email along with your order number after placing your order.
We will make every effort to arrange these seats based on availability.
However, please note that the quantity of such seats is limited, and we cannot guarantee their availability.
If we are unable to obtain a seat for you despite your request, you will be notified.
Especially during peak periods like year-end holidays and for reservations made less than a month before the travel date, accommodating these requests might be challenging. We appreciate your understanding in such cases. Your comfort and hassle-free travel experience remain our top priority.
Seat guide
Shinkansen seats are available in four levels depending on the comfort and services your require.
Ordinary Seat
Regular seats used on Reserved cars and Unreserved cars of Shinkansen. Consider it as "economy class" seat.
Green Seat
Better seats with more space than ordinary seats. All Green Seats are reserved only. Consider it as "business class" seats.
Reserved Seat (Ordinary Reserved Seat)
Your seat is reserved and secured when you book your tickets. Head to the station with a peace of mind.
Seats are the same as Ordinary Seat.
Green Reserved Seat
Better seats and free blankets. Popular among Japanese business persons, executives and people who values comfortable travel. Consider it as "business class" seats.
GranClass Seat
Know as "First Class" of Shinkansen seats. Only available on Hokuriku and Tohoku Shinkansen lines. Gran Class seats comes with airline-like amenities and meals.The most expensive of all.
Unreserved Seat
You can take any open seats in unreserved cars of any train on the departure date. (No departure time will be indicated on your tickets.)
The best seat type if your priority is the cost and are traveling during less-crowded season/time.
For further information and photos, please visit official page at http://www.jreast.co.jp/e/ticket/types.html