Get excited! Winter is coming!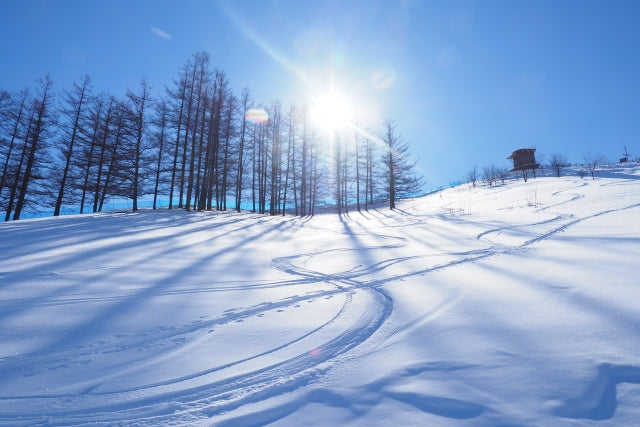 Niseko in Hokkaido is one of the most popular destinations for winter lovers. It is famous for its powder snow and many skiers and snowboarders from all over the world visit Niseko every year. Direct flights from China and Australia help many international tourists enjoy snow resorts with hot springs and famous crabs.
Sounds great?
However, Hokkaido is a little too far from Tokyo.
So, why don't you add a one-day ski trip when you visit Tokyo? There are many excellent snow resorts in mainland as well. 
I will introduce some ski resorts reached from Tokyo by one bullet train without any large luggage or ski gear!
 
 
GALA YUZAWA - Shinkansen and ski center directly connected!
0 minute walk from GALA Yuzawa Station by Joetsu Shinkansen.



Gala Yuzawa Station is a temporary station only while the ski resort is open. It takes just 75 minutes from Tokyo Station!
 
The 17 courses are mainly for beginners and intermediate skiers. The  longest route is 2,500 m, and it allows you to enjoy long cruising with a superb view. It is also famous for its powder snow!
 
You can take a bath at the SPA Gala-no-Yu before going back to Tokyo. 
English lessons are also available. 
 
For the family, there is a ski school for kids. Besides, there is a snow play corner where small children can play with sleds and childcare facilities.
You can rent all the ski wears and gears at the rental center. So you don't need to bring large baggage for skiing.
Please check here for booking Joetsu Shinkansen from Tokyo to Gala Yuzawa
YUZAWA KOGEN - The world largest ropeway
8 minute walk (2 minutes by shuttle bus) from Echigo Yuzawa Station by Joetsu Shinkansen

 
 
Yuzawa Kogen is very close to Gala Yuzawa, and world's largest 166-seater ropeway helps skiers go to the summit smoothly. All 8 courses are mainly for beginners, and there is a super extended cruising with a maximum run distance of 6,000 m. You can enjoy a panorama and powdered snow with a smooth snow quality.
 
Since there is a family slope for skiers only, you can debut and practice with confidence without worrying about borders or advanced players.
Ski lessons by English and Chinese are available.
 
Please check here for booking Joetsu Shinkansen from Tokyo to Echigo Yuzawa

 
5-minute ride by shuttle bus from Echigo Yuzawa station by Joetsu Shinkansen


 
Personally, I recommend NASPA for beginners with small kids. NASPA ski garden is compact, but you can have fun skiing for the first time. The course layout allows you to return to the hotel, NASPA New Otani quickly. So even beginners can rest assured.
It has 8 courses, including mogul areas, non-pressed snow areas, and parks. So it is suitable for all skiers. You can enjoy skiing safely at any level.
 
Kids' favorite is a sled course in the kids garden! Kids can go up with the snow escalator easily and repeat sledding again and again.
They also offer English and Mandarin / Cantonese Ski Private Lessons.
 
Please check here for booking Joetsu Shinkansen from Tokyo to Echigo Yuzawa.

 
10-minute walk (1-minute ride by shuttle bus) from Karuizawa station by Hokuriku Shinkansen.

(You can see Asama mountain )

Karuizawa prince ski resort is equipped with artificial snow machines, and its clear sky rate is as high as 90%. So you can enjoy beautiful scenery from the slopes without worrying about blowing snow.
There are a total of 10 courses, mainly for beginners. For example, "Rabbit Mountain Course" is perfect for small children to practice. 
The snow park is available. With snow escalators, small children can easily climb up the slopes.
Karuizawa is famous as a summer resort for Tokyo residents. Therefore, there are many fine restaurants and shops. So you can enjoy it besides skiing.
Please check here for booking Hokuriku Shinkansen from Tokyo to Karuizawa
And more snow resorts!!
I have introduced just a few of them. Please click here!
Why don't you find your favorite ski resort in Japan? 

About Us: Shinkansen Ticket Online Booking
 
You can book Shinkansen/Bullet train tickets online here. We purchase tickets for you and deliver to your hotel. Reserve your tickets/seats without the hassle.