Use wisely! Unreserved Seats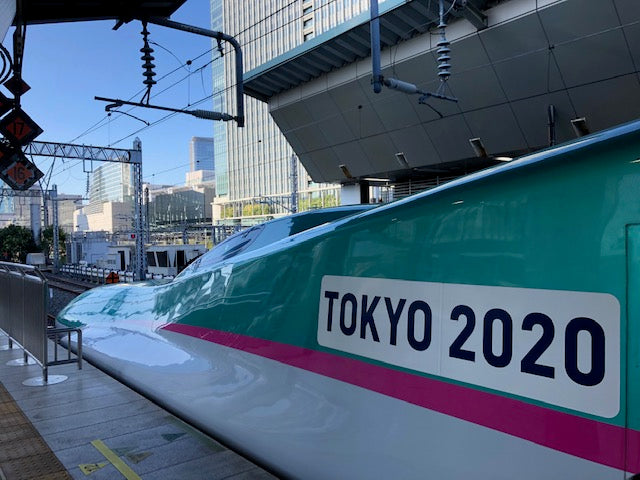 (Updated on: September 14th, 2023)
Please check the latest important announcement from JR regarding the Complete Reservation Seating for the Nozomi Shinkansen.
How To Use Unreserved Seat Tickets
Unreserved (Non-reserved) seats are beneficial when you want to travel at a reasonable price and haven't fixed your travel schedule. It also works during off-season travel.
The difference between unreserved seats and reserved seats is whether fixed seats are guaranteed or not. You can choose any non-reserved seats at any time during the specified date. The number of unreserved seats is different in each Shinkansen train. So you need to check which number of cars is for unreserved seats in advance. The electric bulletin board at the station shows details.
For example, look at this photo. It is the schedule of Joetsu and Hokuriku Shinkansen departing Tokyo for heading north.
The 8:24 departure "Max Toki" has non-reserved seats from Car 1 to Car 3 and Car 9 to Car 11.
On the other hand, "Kagayaki" departing at 8:36 has only reserved seats. Since there are no unreserved seats in Kagayaki, you cannot board on Kagayaki and other reserved-seat-only Shinkansen with non-reserved seat tickets.
The next 8:44 "Hakutaka" and 8:52 "Toki" have non-reserved seats from Car 1 to Car 4.
Where To Make a Line
There is not such a big problem when you use unreserved seats during the off-season, but during the holiday season, you need to know in advance where is the best place to make a line.
For example, please see this picture.
It is the guide of Hakutaka train (E7). They have non-reserved seats between Car 1 and Car 4. However, because Car 1 has a driver's seat, it has fewer places than the others. Therefore it's safer to avoid Car 1.
Besides, the rows of seats are fewer in cars with toilet areas. Many trains have a toilet in Car 3. It means that Car 2 and Car 4 have the most available seats, and you have a high probability of keeping seats.
On the other hand, some trains have unreserved seats not only in the leading vehicles but also in rear cars, such as Nasuno and Yamabiko.
Many local people tend to perceive that "Non-reserved seat Car is at the top". So, the more you line up in the rear vehicles, the more likely you may be to sit.
Tokaido Shinkansen 
Let's take a look at the Tokaido Shinkansen, which is used most by international travelers.
NOZOMI - the fastest train, stops by Tokyo, Shinagawa, Nagoya, Kyoto, Osaka, and Hakata, etc.
They have non-reserved seats between Car 1 and Car 3. Since Car 1 has a driver's seat, and Car 3 has a toilet space, Car 2 has the most available seats.  Seat map is here.
HIKARI - In addition to Nozomi stations, it stops by Odawara, Hamamatsu,  etc.
Hikari, the second-fastest Tokaido Shinkansen has non-reserved seats between Car 1 and Car 5. 
KODAMA - in addition to Hikari stations, it stops by Atami, Shin-Fuji, etc.
Kodama, the slowest train has non-reserved seats between Car 1 and Car 7, and Car 13 and Car 15! Reserved seats are less than non-reserved seats. If you have a plan to go to Hakone or Mt. Fuji area, it may be a chance to challenge unreserved seats.
Car formation of Nozomi, Hikari & Kodama (Japanese Only)
Please note that these formations may change depending on how crowded trains are. Please check on the electric bulletin board at site. 
Also, If you want to be sure that you can sit on unreserved seats, you should board from the first train station, such as Tokyo or Osaka. From Kyoto or Shinagawa station, it may be difficult to secure them.
Unreserved Seats for Kids
Are you going to travel with your children?
In Japan, train fees are generally free for children under five years old.
Regarding reserved seats on Shinkansen, if a child sits on his/her companion's lap, it will be free. However, if a child keeps one seat even if he/she is a baby, he/she needs to pay a full child fee, which prices as same as that for kids over six years old.
On the other hand, regarding unreserved seats, tickets for kids under five years old will be free even if they use their seats. One adult can accompany two children under five years with free seats. So, if two adults are traveling with four children under five years old, six family members can travel with only two adult tickets.
Try Unreserved Tickets!
What do you think? If you have a chance, please try to use unreserved seats wisely.
You can book not only reserved seats, but also unreserved seats at Shinkansen-Tickets.com!
However, we recommend reserved seats for long-distance travel during busy seasons. 
In particular, the Golden Week in May, the Bon Festival in mid-August, and the New Year holidays from the end of December to early January are the hardest to get tickets in Japan.
Shinkansen tickets are to be sold at 10:00 am, one month before the departure date. Make reservations fast!