Corona Virus and Cherry Blossom Season in Japan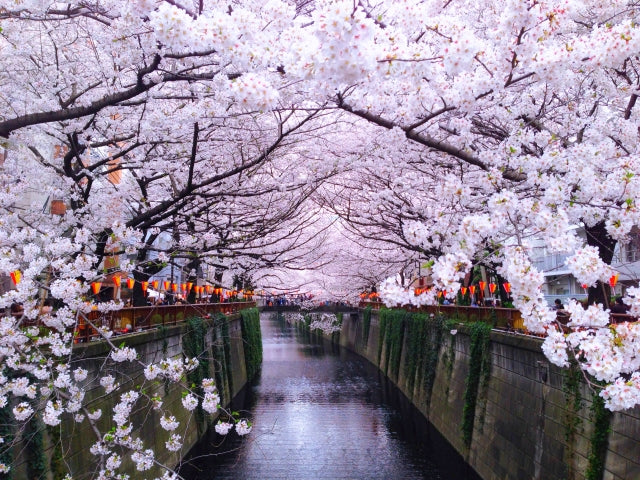 Status of the corona virus in Japan

As of March 24, 2020, the coronavirus is the most urgent issue around the world, and countries are scrambling to deal with it.
According to WHO's Situation Report, the current surge in infections is in Europe, while infections appear to be subsiding in Asian countries.

In Japan, the number of infected people has been steadily increasing, but so far, there has been no rapid increase in infection. Although schools close, the government has not enforced curfew yet. So people are solemnly carrying on their normal economic activities by taking all possible measures individually such as washing hands, wearing masks, working different hours, working from home, etc.


Official Tokyo Website: Latest updates on COVID-19 in Tokyo
Why is there no outbreak in Japan?
It is unclear why there has not been an explosive increase in the number of infections in Japan. The followings are the possible reasons.
The low number of tests
There is some criticism that the small number of infections is due to the small number of PCR tests performed in Japan. While criticized, many people believe that it helps the country from causing the collapse of the health care system.
Once people with minor illnesses rush to the hospital, there is a risk that seriously ill patients could die or medical personnel could be infected. Now that there is no established treatment, the Japanese government's strategy may be to buy time until we will find a cure.
Lifestyle
The original lifestyle of the Japanese may contribute to preventing the spread of infection.
While Japanese people have a habit of washing their hands frequently and wearing masks regularly, they do not hug, kiss, or shake hands when greeting people. Also, they take off their shoes at home.
March & April 
Since there is no outbreak in Japan, many people seem to have relaxed a bit.
Additionally, March and April are the seasons of celebration for Japanese as they are the time of graduation and school entry. Also, it is the once-a-year cherry blossom viewing season.
Ohanami: Cherry blossom viewing
Once a year, the Japanese look forward to gathering with friends and family under the cherry blossoms in full bloom and having a party. It is called "OHANAMI."


This year, the fastest flowering ever observed in Tokyo.
Weather news released the "Sixth Cherry Blossom Forecast" on March 17. This year's cherry blossom flowering started in Tokyo on March 14, which recorded the earliest flowering since observation began in 1953. It forecasts the full blossom is around March 23.
It is very distressing and stressful for people not to hold events based on their cultural backgrounds. That's why the Japanese government has set out a policy of self-restraint, rather than a total ban on cherry blossom viewing.
Best cherry blossom view spots in Tokyo
Here are some of the best cherry blossom viewing spots in Tokyo

Nakameguro Station, admission free

About 800 cherry trees line Meguro River for several hundred meters and create a fantastic sight. During the Nakameguro Sakura Festival, the trees are lit up in the evenings.

* The 2020 illuminations were canceled.

10-minute walk from Shinjuku Station, 500 yen, 9:00 to 18:00 (until 16:30 during winter)

Shinjuku Gyoen features more than one thousand cherry trees of over a dozen varieties, including numerous early and late blooming trees. There are spacious lawn areas, and the atmosphere is calm and peaceful. Because different types of blooming cherries, Shinjuku Gyoen is an excellent hanami destination for those who miss the primary season by a week or two. Alcoholic drinks are prohibited.




Kudanshita Station, admission free

Hundreds of cherry trees decorate the moats of former Edo Castle around Kitanomaru Park, creating one of Tokyo's most outstanding cherry blossom sights. Boats are available for rent, but picnics are not allowed. Trees are lit up in the evenings. Many food stands are at nearby Yasukuni Shrine with another thousand cherry trees.

*The 2020 illuminations were cancelled

A few steps from Ueno Station, admission free

One of Japan's most crowded, lively and popular spots for cherry blossom parties, Ueno Park features more than 1000 trees along the street leading towards the National Museum and around Shinobazu Pond. Ueno Park's blossoms typically open a couple of days ahead of the blooms in many other spots in the city.

* The 2020 illuminations were cancelled

A five-minute  walk from Harajuku Station, admission free

Over 600 cherry trees are planted around the spacious Yoyogi Park, offering pleasant picnic opportunities. A few food stands are available.


Guideline for Ohanami 2020
Regarding the year 2020, all the illumination and festivals canceled. The government encourages people to look at the cherry blossoms by not sitting or eating but walking around.
Followings are the guidelines for Ohanami in 2020:
* Keep your distance from other visitors
* No leisure sheets are allowed.
* Follow proper cough etiquette
* Wash your hands and sanitize your fingers
* Refrain from coming to the park if you have any symptoms of a cold
* Refrain from using the banquet where many people gather to eat and drink.
* Enjoy walking around the area when you visit for cherry blossom viewing.
Sigh board says, "cough etiquette, please."
For after corona world
Everyone around the world is fighting against this coronavirus in the belief that this war against virus will end one day. Once we find a cure and vaccine, we can be able to travel around the world as before.
Now is the time to be patient, but it may be a good idea we make our future travel plans while watching the beautiful images of cherry blossoms.



About Us: Shinkansen Ticket Online Booking

You can book Shinkansen/Bullet train tickets online HERE. We purchase tickets for you and deliver to your hotel. Reserve your tickets/seats without the hassle.