Cherry blossom season is coming! Book NOW before seats are SOLD OUT!!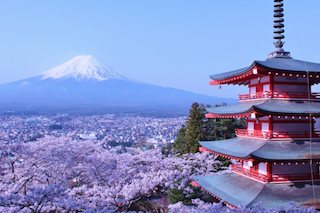 If you are planning to travel Japan during the spring season, we recommend you to book your tickets NOW.

Spring is one of the most ideal time to visit Japan, as there is this one BIG event all Japanese people (and the travelers from outside Japan) await for - cherry blossom viewing or so called HANAMI.

People gather to enjoy the Sakura Festival in Chidorigafuchi, Tokyo

This flower viewing can be experienced throughout the spring season in Japan, begins in Okinawa, the southernmost prefecture of Japan, in around mid-January to mid-February, passes through the middle of Japan (including Kyoto and Tokyo) in end-March to early-April, and finishes with a late bloom in northern area of Japan (Tohoku area and Hokkaido) in May.

You will be stunned by the unbelieavably beautiful scenery of Japan where all the streets, riverside, temple and shrine grounds and mountains are covered by pale pink blossoms.

Cherry blossoms in full bloom at Tsugaru Railway Line, Aomori prefecture
In this season when any place in Japan is flooded with cherry-blossom viewers from inside and outside Japan, you would have to book your Shinkansen tickets far in advance, or you will end up standing for the whole 2-5 hours of Shinkansen ride, as many seats often become sold out in the early stage.
Here are some advantages of purchasing tickets at our website, shinkansetn-ticket.com:
The Japan Railways accepts reservation from one month before travel date, but Shinkansen-Ticket.com accepts your reservation NOW!
Many people want to book tickets as soon as they fix their travel dates. However, the Japan Railways (JR) group can only accept reservation from one month prior to the travel date.
Shinkansen-Ticket.com buys tickets on the ticket release day
We, Shinkansen-Ticket.com, on the other hand, can take orders of tickets for even next year.
When we receive a ticket order for a date more than a month ahead, we buy tickets on the very release day, one month prior to the travel date.
Shinkansen-Ticket.com let you choose your preferred seat
If you wish to have your seats by the Mt. Fuji to fully enjoy your spring scenery from Shinkansen, or to have seats at the very back of the cabin so that you can store your huge luggage, we, Shinkansen-Ticket.com, will be able to arrange seats that meet your requests!*
*We may not be able to respond to requests for the orders made less than a month prior as seat availability decreases.

So, if you plan to ride Shinkansen during the cherry blossom season, reserve tickets at our website once you decide your trip date to Japan. We are more than happy to securely reserve your tickets/seats for you.

Kyoto is one of the most popular places to visit for cherry blossom viewing
About Us: Shinkansen Ticket Online Booking
You can book Shinkansen/Bullet train tickets online here. We purchase tickets for you and deliver to your hotel. Reserve your tickets/seats without the hassle.
We started this service in April, 2016 just because we were asked by our international friends visiting Japan. We have served hundreds of customers and processed thousands of orders since then.